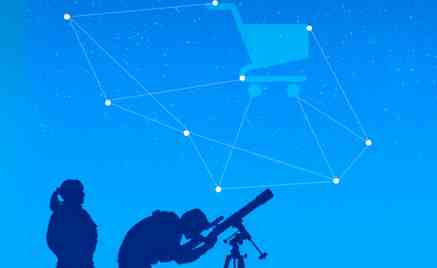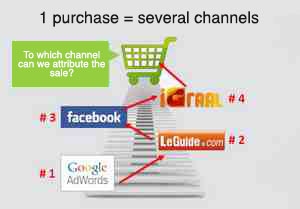 Partner with digital BRAND, the IT company 
Mazeberry
 has developed an innovative methodology and technology in order to optimise digital marketing mix beyond last click ROI.      In effect, only using last click before conversion (purchase, subscription, etc.) has a tendency of hiding the reality of the contribution of different channels to the final result. A chat with Fabien Dutrieux from Mazeberry.  
Image source: Mazeberry
Data driven approaches are still not extensively adopted by French e-sellers.

digital BRAND: In digital marketing, the multiplication of recruitment and loyalty channels forces one to look for an optimal mix that will work with the client throughout their journey. How was Mazeberry's idea born?
Fabien Dutrieux: The idea was born when Mazeberry's founder, Thibaut Lemay, was helping an e-sellers analyse the ROI and their e-marketing levers. Having no adapted tools available, the process was quite complex, time consuming and lacked precision.
He spent a lot of time re-examining date in Excel, with all the difficulties that implies. Thibaut Lemay thought up the Mazeberry solution: a simple and precise custom tool to measure marketing performances.
dB: What have you noticed with advertisers and e-sellers? The investment choice on such and such a channel is optimised, or are simply work opportunities and habits?
FD: It's rather variable. All of our clients have a common objective: optimise the ROI from their e-marketing levers. To do so, they regularly follow their performance indicators using the PASID method, a method developed by Mazeberry for digital professionals.
However, "data driven" approaches are still not extensively adopted by e-sellers in France, due to a lack of resources or time. This is why agencies like digital BRAND, due to their expertise and client care, have a key role in the work towards managing their client's costs.
It's difficult to optimise ROI by just looking at ROI!

dB: Can you quickly describe the "PASID" method for us, and how it is different from other attribution statistics models?
FD: The "PASID" method is a 5 step operational analysis methodology. Each axis is made up of several metrics that allow you to obtain a 360° view of e-marketing performances.
Our clients use this methodology to adjust their budgets and optimise their ROI by on average 30% a year. For a large e-commerce site, that can mean several million euros of investment better managed each year.
This method includes classic attribution models but is not limited to them. In effect, the attribution models only provide a partial and arbitrary view of commercial performances.
You have to understand that it is difficult to optimise ROI by only analysing ROI! To better understand that, you can make the analogy with client satisfaction studies. When a brand studies the satisfaction of its clients, it analyses the rate of satisfaction but also client satisfaction based on different criteria.
It allows them to identify the strengths and weaknesses within its relations with clients. Without all those elements, the brand could not identify ways to optimise.
With the PASID method, the process is applied to digital marketing. Our clients know why their ROI is good or bad, so that they can then optimise it.
dB: What are the main advantages for a brand or e-seller who uses your approach?
FD: This approach allows them to significantly optimise their overall ROI as well as the efficiency of different e-marketing levers. Advertisers that use this method understand perfectly the roles played by their different media tools as well as the synergy effects and cannibalisation.
Frequently, display campaigns are identified prior to the purchase decision. In this case, the display is an initiator.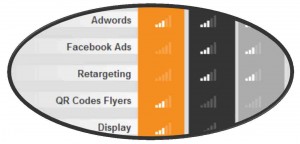 dB: Recently, Eoin Townsend, strategy manager for MediaMath, published an article titled «The great illusion of big data». Do you believe, like him, that the issue is not to accumulate more data but to better know how to use it?
FD: Certainly, that is why our technology doesn't collect any data. A profusion of data is already available, whether in large companies or SMEs.
Our technology is directly linked with client data and transforms them into operational metrics. We are the last link in big data, we bring added value to data.
dB: You use the image of a team to describe the acquisition/loyalty channels, with leaders, substitutes, scorers, etc. Currently, have you identified the typologies of digital channels dedicated to a particular objective?
FD: Mazeberry attributes typologies to each e-marketing lever or campaign. So we can identify "autonomous" ones, the "multipurpose" ones, the "initiators", the "passers" and the "scorers". The results vary from one site to another.
However, we've observed several tendencies, and we often identify display campaigns prior to the purchase decision. In this case, the display is the "initiator" and provides more visibility to the brand.
dB: What suggestions would you give to an e-seller who already has experience but wants to optimise their investments? Where should they start?
FD: If the e-seller has a history of reliable and interesting data, it would be unfortunate not to analyse it is depth. This retroactive analysis allows us to audit the acquisition strategy and put in place an operational action plan.
Then, we suggest that they complete a follow-up of performances as well as strategic reviews. That is why being assisted by an expert agency in this field is very important.
dB: The quality of the collected data is essential for allowing them to then put the right levers in to motion. Do you see an increase in the quantity or the quality of collected data?
FD: As said earlier, there is a progression in the quantity of data. The challenge is being able to get rid of low quality or useless information.
The search always represents more than half of e-marketing expenses.

dB: Today, what are the main tendencies in digital marketing investments? How does SEO, display, emailing etc. live together?
FD: The search always represents more than half of e-marketing expenses. This lever has taken advantage of the growth in mobile since 2013 to increase its revenue. Today it remains an key lever.
More than a quarter of e-marketing expenses are on display. In 2013, display saw a strong progression thanks to the growth in video and mobile formats. Advertisers are starting to significantly invest in this lever through RTB platforms.
Investments in this lever have grown by 10% a year since 2007 and should stabilise around 6% per year up to 2017, according to previsions by Xerfi Precepta.
Evidently, there are strong synergies between the different e-marketing channels. A study completed by Harvard Institute indicated that display allows you to increase conversions coming from search engines.
dB: To conclude, do you still note divergent approaches between brands that are centred on ROI and other brands more concerned about their image and notoriety? Do you think the two are complementary or should they be treated separately?
FD: Yes, the approaches are often opposed between these two typologies. Each objective, whether short term profitability or notoriety must be measured and optimised.
The indicators are not the same and I think that these issues should be treated separately. The solutions developed by Mazeberry offer analyses oriented towards ROI.
dB: Thank you for your answers Fabien.
FD: Merci digital BRAND !