WHAT IS THE REAL CONTRIBUTION OF EACH CHANNEL TO YOUR BOTTOM LINE ?
Thanks to our collaboration with the Lille-based IT start-up Mazeberry, we can provide you with an analysis model for data and SaaS mode technology that allows you to precisely know your client's journey before making a purchase.
What makes it different from data collection and analysis tools such Google analytics is that you'll know the purchase journey before the last click.
Often internet users are exposed to many brand messages before making a purchase. Knowing the last click provides information on the source of the purchase, but does not quantify the real impact of the different communication channels on your bottom line.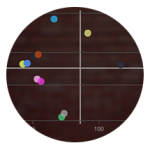 Digital marketing mix optimization.
Your expectations …
Implementing an optimal digital marketing mix: what are the best e-marketing channels? Should you stop, maintain or increase your investments? What are the strengths and weaknesses of each recruitment or loyalty channel?
Length: from 1 to 4 weeks for implementation, access to a dashboard 24/7.
Integration with our data collection system (Google Analytics, AT Internet, others…),
Development of a "multi-attribution" view without adding tags, based on your own objectives: key indicators, channels to analyse,
Detailed analysis and recommendations,
Skills transfer and access to your dashboard 24/7 or delivery of analyses at regular intervals (monthly, quarterly, semi-annually…)

Example of a Decision Matrix.

Example of an interaction table between communication channels.
What are the e-marketing channels that work together?
What is the position between 2 marketing channels?
Is the relationship between 2 marketing channels significant?