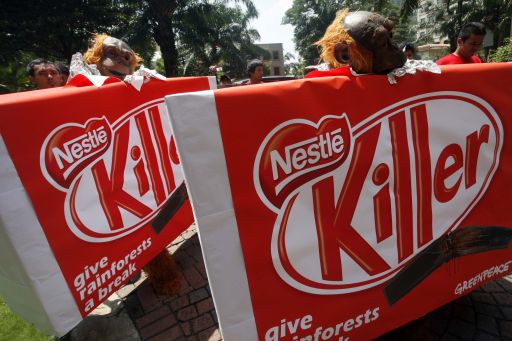 On March 16, 2010, Greenpeace attacked Nestlé by publishing a 9 page document online denouncing the devastating effects of palm oil plantations on the Indonesian rainforests.
During the day of March 17th, Nestlé published a press release indicating that the company no longer works with the palm oil supplier identified by Greenpeace.

"March 17 (Bloomberg) — Nestle SA said it dropped Sinar Mas Group as a supplier of palm oil, after Greenpeace called on the world's largest foodmaker to cut ties with the Indonesian company."
At the same time, Greenpeace UK increased pressure by publishing on Facebook a series of photos "Give the orang-utan a break", as well as videos on YouTube and Vimeo.com (http://vimeo.com/10236827).
Logo, slogan, TV skits…all the advertising codes from the celebrated chocolate bar KitKat were deformed.

"Thanks Nestle – I would've never seen this video if u hadn't it kicked off YouTube"
Still on March 17, Nestlé published on its Facebook wall a message indicating the precautions taken by the Vevey firm relating to the use of palm oil certified "sustainable".

Greenpeace supporters increased their use of the Nestlé page on Facebook to show their discontent. They distinguished themselves by adding to their messages a deformed brand logo, one of the elements in the "campaign kit" supplied by Greenpeace.
March 19, Nestlé tried to contain the messages by erasing the messages that included the deformed brand logo. This action caused a flood of negative comments.

In response, a representative of Nestlé published an ironic message without being able to open constructive dialogue with the internet users.
"Oh please…it's like we're censoring everything to allow only positive comments."
"Thanks for the lesson in manners. Consider yourself embraced. But it's our page, we set the rules, it was ever thus."
To which internet users responded tit-for-tat.

After several hours of negative exchanges, the Vevey firm made its mea culpa.

In parallel, Greenpeace UK increased the tension by publishing a message on twitter inciting internet user to express their opinion on the Nestlé Facebook page.

On March 20, the "Nestlé-Greenpeace-Facebook" story spread across twitter, without going beyond the social media expert community. From the mass media side, the information was only relayed during the day of March 19.
What we learned from these days of crisis communications ?
It's always easier to gives lessons posteriori than act and anticipate.
However, these militant action days against a multinational firm with a solid reputation shows us to what point brands are now exposed to more or less concerted or spontaneous collective action.
Because if Greenpeace acted as a catalyzer and tactician, in the end it was a community of internet users, and not the organisation itself, that created the importance of this operation. As for Nestlé, we can see they were poorly or not even prepared.
The brand is no longer a sanctuary where the content and the individual elements (logo, slogan…) are the exclusive property of a "limited company".
Of course, brands remain protected by international law, but they are and have always been a social construction. They are part of our collective memory, even our cultural heritage, in the same way our songs or stories are.
On this point, social media bring nothing fundamentally new. Simply, they provide everyone the possibility to speak out, to transmit this statement globally (and not just to their closest friends), to "remix", with a simple connected PC, logos, slogans, ad spots, etc. Self-media, remix, "My time" versus "Prime Time" are the keywords in the brand media environement of today.
Media power is more diffuse. A part of this power is in the hands of communities of internet users able to collectively act and organisation that can mobilise. The Facebook page is a good example: powerful tool to put a brand in relation with consumers, it can be the target of a commando operation ("brand jacking"), which was the case for Nestlé.
And if censoring is still possible, the effects are often worse than the causes, the polemic moves in real-time towards other virtual exchange locations.
Also note the ambivalent position of social networks: if their revenues depend almost solely on advertising, they have no interest, except in limited cases, to exercise complete censorship.
It would risk alienating their internet user base, weaken the links with their audience, and thus affect their revenues…To our knowledge, no consumer rating site has expanded by only publishing positive or neutral comments.
Recommendations to deal with hostile communications.
Don't get Caught by Real-Time - Prepare! (click the title to expand)
There are still many marketing or communications managers who still think that social media are a sort of "experimental sandbox" where they don't need to invest more than a couple of hours to an intern.
Today, Facebook alone attracts 400 million users around the world. Depending on the country, its users spend between 5 and 7 hours per month on average on the site.
Different from an ad or email campaign, the animation and follow-up of a Facebook site is a continuous project. In case of a crisis, you have to be able to act almost in real-time, often 24/7 if your audience is international.
Additionally, responding to a crisis in real-time requires having previously formulated a communications charter or guideline dedicated to this kind of media. Avoid delegating this task to a media relations person as a "task to do when you have a bit of spare time".
Social media have a tendency to streamline traditional functions of corporate communications, marketing communications and management of client relations. In fact, the community manager in charge of social media animation must be able to solicit different functional managers within the company.
Internally train a community manager (click the title to expand)
One of the common myths about social media is that it principally concerns above all Generation Y, and that the community manager is as such junior level and is part of that generation.
In fact, if Generation Y helped Facebook and other 2.0s lift off, today the site recruits from all ages groups, particularly amongst women 40 and over.
Additionally, communicating in the name of a brand or a company with thousands of sometimes hostile internet users requires a mastery of internet communications and an excellent knowledge of the specificities of your brand and your sector of activity.
Anticipate, don't wait for a crisis to react (click the title to expand)
Frequently, brands and companies prefer waiting for a crisis to arrive before reacting to it on social media. It is often too late, and are superficial or legal in nature, and even if they are justified, have the effect of worsening the situation.
Social networks are a social body in constant evolution, updated knowledge of locations for favorable, hostile or neutral comments for your brand is necessary for all efficient and sustainable action.
Buzz monitoring, such as what we do at digital BRAND, allows us to identify daily new opportunities for communication and reinforcement of relations with a community of clients, prospects, supporters or critics.
Elaborate a crisis management plan with variable geometry. Be prepared to give a personalised response to an unhappy client or transmit a flood of comments and key messages within a couple of hours.